This is part two of a two-part series on freighter anchorages off of Vancouver Island and the Gulf Islands.
Richard Dewey is often out on the water, boating and sailing around the Gulf Islands.
"Growing up in Victoria, and cruising in the Gulf Islands since the '70s, I have noticed in the last five to 10 years a steady increase, certainly sort of post-COVID … a predominance and existence of these deep-sea freighters that are anchored now regularly and routinely, throughout the Gulf Islands, and even off of Royal Roads and Constance Bank off Victoria," said Dewey, an associate director with Ocean Networks Canada and adjunct professor at the University of Victoria.
In 2011, 140 dry bulk and liquid bulk vessels anchored in the Southern Gulf Islands. In 2022, there were 457 bulk vessels recorded as anchored. Meanwhile, the total amount of freight going through the Port of Vancouver has gone up by 18 per cent over roughly the same time span.
But besides being a visual eyesore, the impacts of freighter ships are wide-ranging, including everything from noise to scrubber discharge and pollution to seabed scouring.
While freighters are anchored, their engines aren't running, but they are running generators to provide electricity to the ship.
Those are much quieter than the engines would be but are still noisy, especially in what used to be quiet environments around the Gulf Islands, says Dewey. How that impacts marine animals is uncertain, with mostly anecdotal evidence only existing so far, he said.
Scrubber wash water is the byproduct of ship exhaust gas cleaning systems, hence "scrubbers." A report commissioned by the Vancouver Fraser Port Authority found that scrubbers dump acidic sulphur into the ocean and heavy metals and other chemicals at levels that can harm marine life. The port authority banned scrubber wash discharge within Port of Vancouver waters.
But no such rules exist around the Vancouver Island anchorages.
As for anchors, it's not much so the anchor itself that is scouring the seabeds, but the long chain attached to them. That chain, sometimes 100 metres in length, drags along the sea floor, disrupting the ecosystem.
"It may look like a desert," said Dewey. "I mean, it looks like just soil. But even soil that's left fallow has microbes that are remineralizing biological material, they're turning algae and seaweed into nutrients that then get replenished," said Dewey.
"The bottom of the ocean in English Bay (the mouth of the Port of Vancouver), where there are 25 anchorages that are occupied almost continuously and have been for many decades – that bottom is pitted and scoured completely. The economy of Vancouver has sacrificed most of the bottom of English Bay as being a real wasteland for any hope of a healthy, authentic ecosystem because of the permanent anchorage there. In some sense, that's what we're looking at in these these these anchorages throughout the main floor in the Gulf Islands."
All these impacts need to be studied more, says Dewey. The federal government does have a project dubbed the Cumulative Effects of Marine Shipping Initiative, which is looking into the impacts on benthic ecosystems – related to the bottom of a body of water – of freighter anchorages around the Gulf Islands.
On land, people are also unhappy. Residents have long complained to Alistair MacGregor, Member of Parliament for Cowichan—Malahat—Langford about the noise, light and pollution from freighter anchorages. He's also consulted with local Indigenous chiefs about how they have been impacted.
"They (the anchorages) were established without any kind of free prior informed consent," said MacGregor. "I have talked to local Indigenous leaders, and let's just say (they) have a very poor view on the federal government's efforts, consultation and outreach."
What's being done?
The Vancouver Fraser Port Authority says they consulted with Indigenous groups as well as local governments to develop an anchorage code of conduct, which came into effect on Feb. 15 and "is strongly recommended for ships calling at anchorages," according to Alex Munro, spokesperson for the port authority.
The port authority is working on an Active Vessel Traffic Management Program which will look to make freight processing through the port more efficient.
The federal government also has a $50-million request for proposals to help Canadian ports buy cargo storage capacity and other measures to relieve supply chain congestion.
Currently, anchorages are managed based on an interim protocol put in place by Transport Canada in February 2018 to help reduce the impacts of ships at anchor on local communities. The protocol's goal was to balance the distribution of ships, according to Munro.
Unsatisfied, MacGregor introduced a private member's bill in November to ban the use of freighter anchorages in an area stretching from the northern tip of the Gulf Islands to the northern tip of the Saanich Peninsula. While MacGregor acknowledged it's a long shot, he was hopeful that some progress could be made.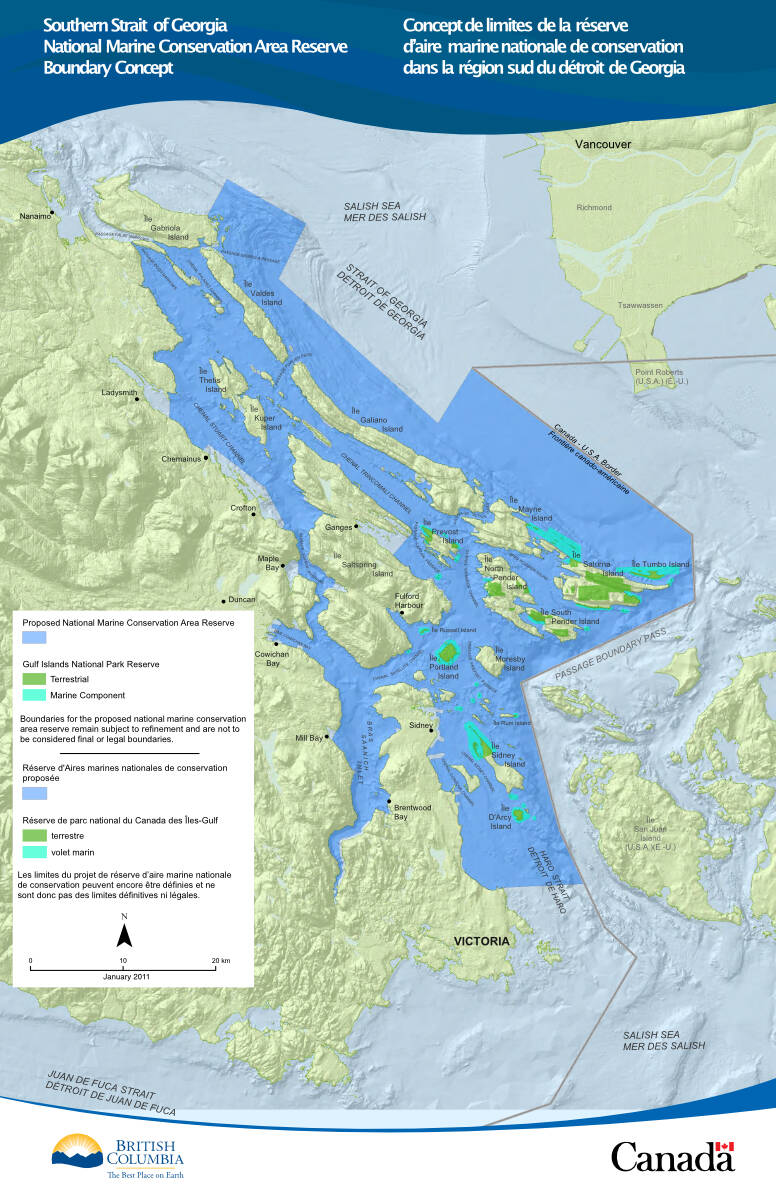 Despite MacGregor's bill, Transport Canada said they weren't currently considering banning anchorages off the coast of Vancouver Island.
Finding a solution will not be simple, according to Dewey, who himself admitted he felt slightly hypocritical in opposing anchorages.
"I still like my fresh produce delivered on freighters, or I buy a microwave oven or a range for my kitchen – it comes from a freighter. I still expect certain economies to be running," said Dewey. "Where do we get the license to complain about the economies that drive our province? It's a double-edged sword on that one."
---
@moreton_bailey
bailey.moreton@goldstreamgazette.com
Like us on Facebook and follow us on Twitter.