Warm, sunny mornings spent sipping coffee on your private balcony while basking in the fragrantly cool sea breezes is just part of the experience when you rent at Uplands Terrace Apartments.
The beautiful apartment complex will be welcoming senior tenants interested in an active and independent rental lifestyle. With 108 modern one and two-bedroom suites contained within the single five-storey building, this is a master-planned community focused on creating opportunities for meaningful social connections within a fun and friendly neighbourhood.
Find peace of mind in Uplands Terrace's convenient walkable community
Tenants can look forward to exploring the walkable and convenient community waiting at their doorstep. This purpose-built complex offers a dedicated and secure indoor storage building for bicycles for those renters interested in a car-free lifestyle. The nearest transit stop is a quick two-minute walk for visits to Nanaimo's bustling city centre, waterfront, ferries, and local parks and beaches. Location is everything and Uplands Terrace delivers.
Modern renters will appreciate the wide variety of essential amenities, restaurants, the library, and services that are within a five-minute walk. Groceries, shopping, Costco, Walmart, and the Woodgrove Shopping Centre are a convenient four to six-minute drive away and access to the Island Highway is only three-minutes from the parking lot. There are plenty of parking spots with five visitor's stalls, four accessible stalls, and 12 electric vehicle (EV) charging stations.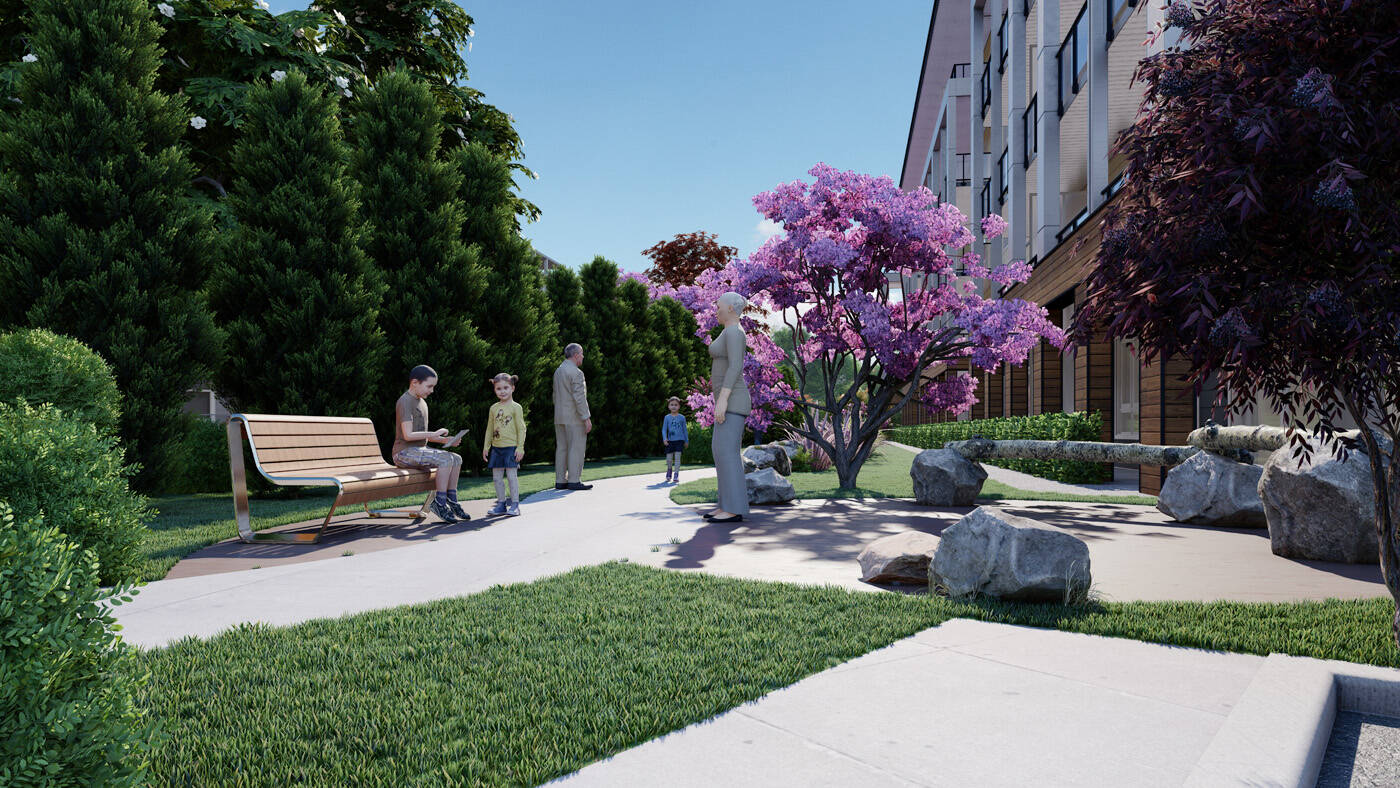 With beautifully landscaped grounds, a dedicated green space and meditation area, and McGirr Sports Fields just across the road, there's plenty of room for getting in touch with nature, exercising pets, and maxing out those daily step count goals. New tenants will be sure to include Blueback Beach, Invermere Beach, Huddlestone Beach, and Sunset Beach in their regular walking rotation as these are all within a quick four to eight-minute drive from the front door.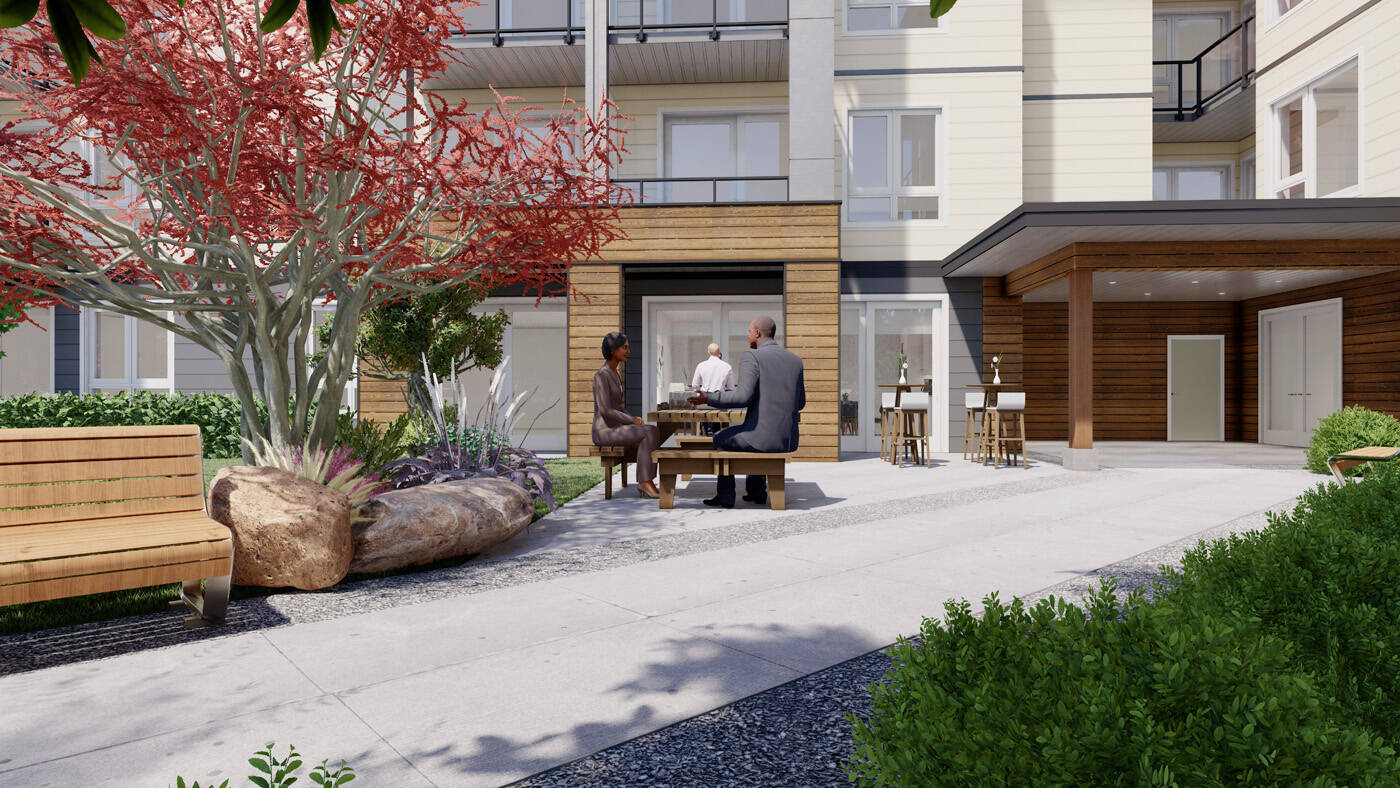 A rental apartment property master planned for a fulfilling modern senior lifestyle
The indoor/outdoor amenity space known as The Hub was designed to allow tenants the opportunity to host friends and family in the larger social room and outdoor patio with grilling station, so a summer BBQ or larger family gathering is always an option.
It's easy to see why Uplands Terrace is the talk of Nanaimo. Pre-leasing is well underway, and the growing tenant community is excited for the Summer 2022 move-in. But don't worry, there's still room for you!
Uplands Terrace Apartments, developed by Denciti, is managed by Skyline Living and are springing up at 6117 Uplands Drive in Nanaimo. For more information, to take a virtual tour, or reserve a suite, please visit: http://www.uplandsterrace.com/ or call (236) 362-0816.
About Skyline Living
As one of Canada's most prominent apartment rental providers, Skyline Living exists to provide safe, clean, and comfortable places for its residents to call home. Providing homes in over 50 communities across Canada, Skyline Living is an industry leader in customer service, environmental stewardship, and community giving. It works to create and maintain thriving, vibrant communities for its valued tenants, employees, and the neighbourhoods in which they live and work. Skyline Living is a part of Skyline Group of Companies.
About Denciti Development Corp.
Denciti Development Corp. is a British Columbia-based real estate development company creating urban industrial, commercial and residential developments. The Denciti team has delivered over $2 billion of real estate across Canada. Denciti projects are designed with the end-users, business owners, and potential tenants in mind, focusing on efficient quality built developments.