Hanan and Shelagh Merrill recently purchased a new-to-them car. After a year of searching, the final deciding factor was the colour: District Green.
It glows gold-ish bronze in the sun. It's unique. They love the look of it.
"In a nutshell: we're proud of it," says Hanan, who, together with Shelagh, owns Nanaimo Hearing Clinic.
When we make a purchase, we're often attracted to the things that represent our taste. They say something about us. Hanan and Shelagh's car makes them feel proud because it reflects a new chapter in their lives: it's not a big family wagon for shuttling kids, it fulfills different needs.
"One of my favourite hearing aid manufacturers recently came out with a new colour. As soon as I saw it I knew I wanted a set. Can you guess the colour?" Hanan says.
District green.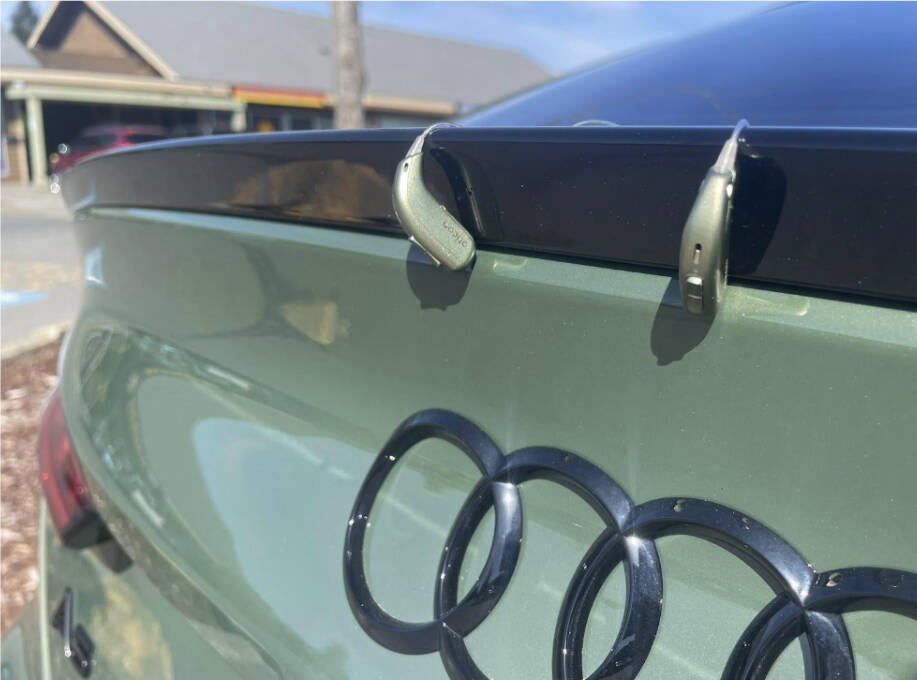 Good hearing is a superpower
Why did Hanan pick green hearing aids? Because it matches the new car.
"Normally when people pick hearing aids they're trying try and hide them. They choose colours that blend in with their skin tone and hair colour. Hearing aids are sometimes seen as a necessary evil that people wear reluctantly — that they'll try to avoid and hide," Hanan says.
In these cases, hearing aids symbolize a lot of negativity: loss, less ability, aging, frustration and more. But there are some people who look at hearing aids differently. Rather than seeing hearing loss as a problem to avoid and postpone, they see hearing improvement as a superpower to be proud of.
What if hearing aids were as fashionable as glasses, with different colours, shapes and patterns to match your personal style?
"Hearing aids don't have to be a negative thing. They're instruments that enhance your ability to communicate, make you more in touch with life and all its little detailed sounds, and make you feel and act younger because you're able to catch more of the conversation," Hanan says.
What if more people felt empowered to choose hearing aid colours that match their car, as a symbol of pride?
Pride in the device as a fashion statement, and pride in the hearing augmentation that is their superpower!
Ready to learn more? Nanaimo Hearing Clinic is so passionate about empowering people to wear bright hearing aids, they'll offer you a discount! Choose any colour that makes you proud.
Find Nanaimo Hearing Clinic at 501-5800 Turner Rd in Cactus Club Plaza. To make an appointment call 250-585-4100 or get in touch online at nanaimohearingclinic.com/contact.