Heading east of the Nanaimo Airport, past the Cottonwood Golf Course, you'll soon slip into some of the Central Island's prime farming country.
Haslam Road connects the Cassidy and Cedar areas and for generations has been home to some of the community's larger farms.
It's believed the road itself references not Andrew Haslam – pioneer lumberman and late 19th-century mayor and MLA – but farmer and miner Richard Haslam.
In "Chronicles: Ashes to ashes: the rise and fall of Haslam," printed in the Cowichan Valley Citizen in September 2016, writer Tom Paterson notes that, "It's unlikely that Cassidy's Haslam Creek, which crosses the Island Highway just north of the Nanaimo Airport, honours this sawmilling giant. Rather, it probably recognizes the Haslam family, Richard and Nancy Haslam who purchased 100-acre Cedar Farm (hence Haslam Road) in the 1860s."
Richard, it seems, was one of those unsung heroes who worked as a miner in Nanaimo during the week, then hiked home to work the farm on weekends. It all came to an untimely end on Sept. 30, 1874, when he was killed by a rock fall at Newcastle Mine.
Also bearing the Haslam name today is a local attraction: the Haslam Creek Suspension Bridge Trail.
Part of the Trans Canada Trail, find the Haslam Creek Trail on the opposite side of the Highway 1 in Cassidy. Heading south past the airport, turn right onto Timberlands Road and continue to the end, following the bend to the left. Follow the road about 1.5 kilometres further until you see a sign for Haslam Creek Trail, along with a tree marker for the Trans Canada Trail. Click here for a map.
Walking an easy 1.2 kilometres from the trailhead to the bridge, you'll come to a beautiful creek and the suspension bridge; cross it to find maps of the surrounding trails linking all the way to Spruston Road, approximately 2.5 hours one way from the bridge.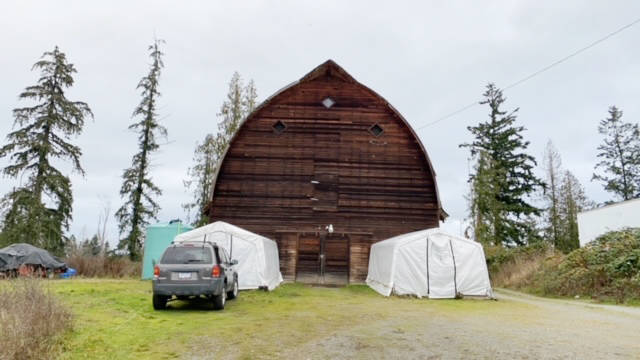 The farming legacy continues today
While the area has changed dramatically since Richard Haslam's day, it continues to host an array of farms – everything from horse breeding to hemp.
In fact, the 95-acre property at 2789 Haslam Rd. is home to a thriving hemp farm, hay fields and grazing cattle, along with a farmhouse, barn, workshop and outbuildings, and 2,500-sq.-ft. greenhouse. Listed for $2,850,000, the fully licensed hemp farm has produced on as much as 40 acres, growing under Organic-Approved farming practises for the last three years.
Two ponds provide crop irrigation and the farmhouse, currently rented, has its own independent well.
For more information, call Jody Epp at Jody@bbeadle.com