BC Bike Race officials would love to come back to Crofton in 2024.
After the first three days of the 2023 event with base camp set up at the Crofton Ball Fields, BC Bike Race co-founder Andreas Hestler was singing the praises of the community.
"I think the Crofton (Cowichan Valley) venue has blown people's minds," said Hestler.
And with 603 racers representing 35 countries, that's significant for mountain biking and tourism, he indicated.
"These people come here to experience the legend of B.C. mountain biking," explained Hestler. "I think they're being served the best mountain biking possible.
"The weather's hot, the riding's hard. It's a smorgasbord. They want a lot and our job at the BC Bike Race is to curate the experience. Right now, I'd say everybody's absolutely loving the Cowichan Valley."
Crofton's Maple Mountain was the site for the first day's prologue and racing on the third day, with trails on Mount Tzouhalem utilized in between before base camp was packed up Thursday morning and reestablished at Cumberland for the final days of racing in Nanaimo, Campbell River and Cumberland.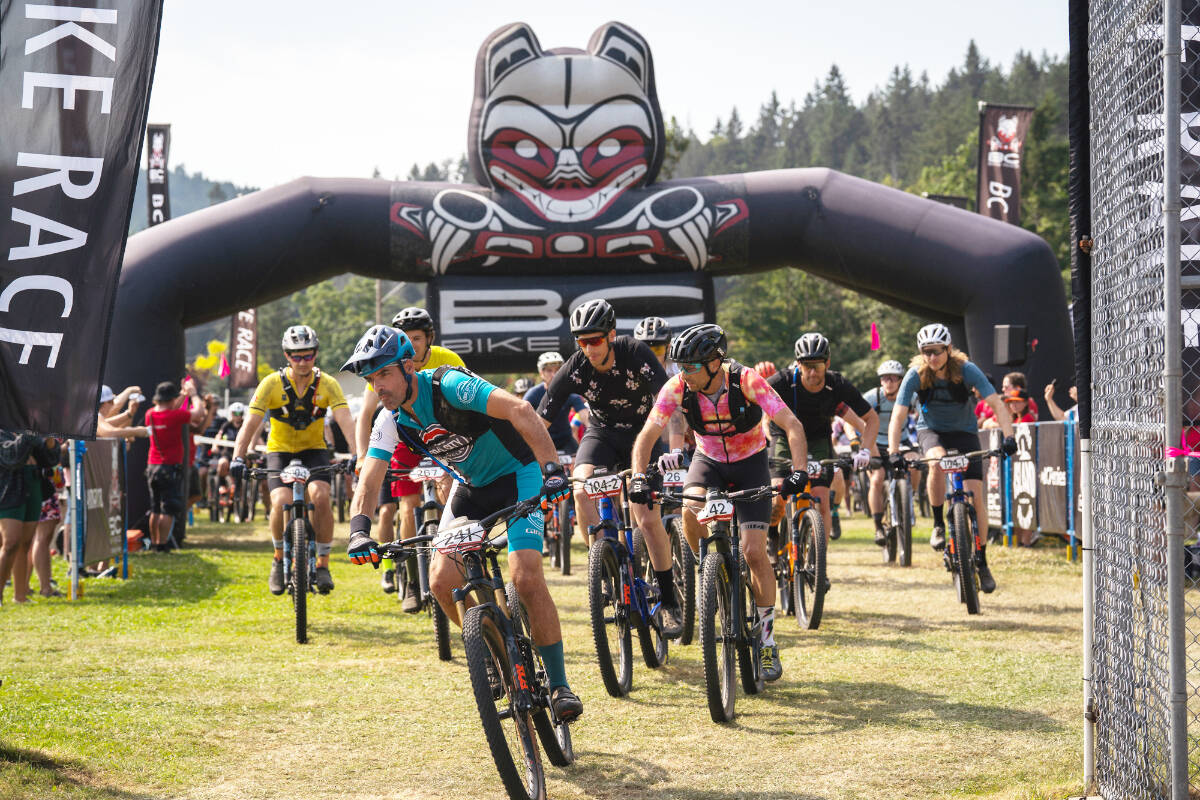 The BC Bike Race seemed to move on as fast as it came in, but not before hundreds from around the world left with a great impression of what the Cowichan Valley has to offer.
The average rider spent between 3-6 hours per day on the course and the average age of the 85 per cent male field was 39-55.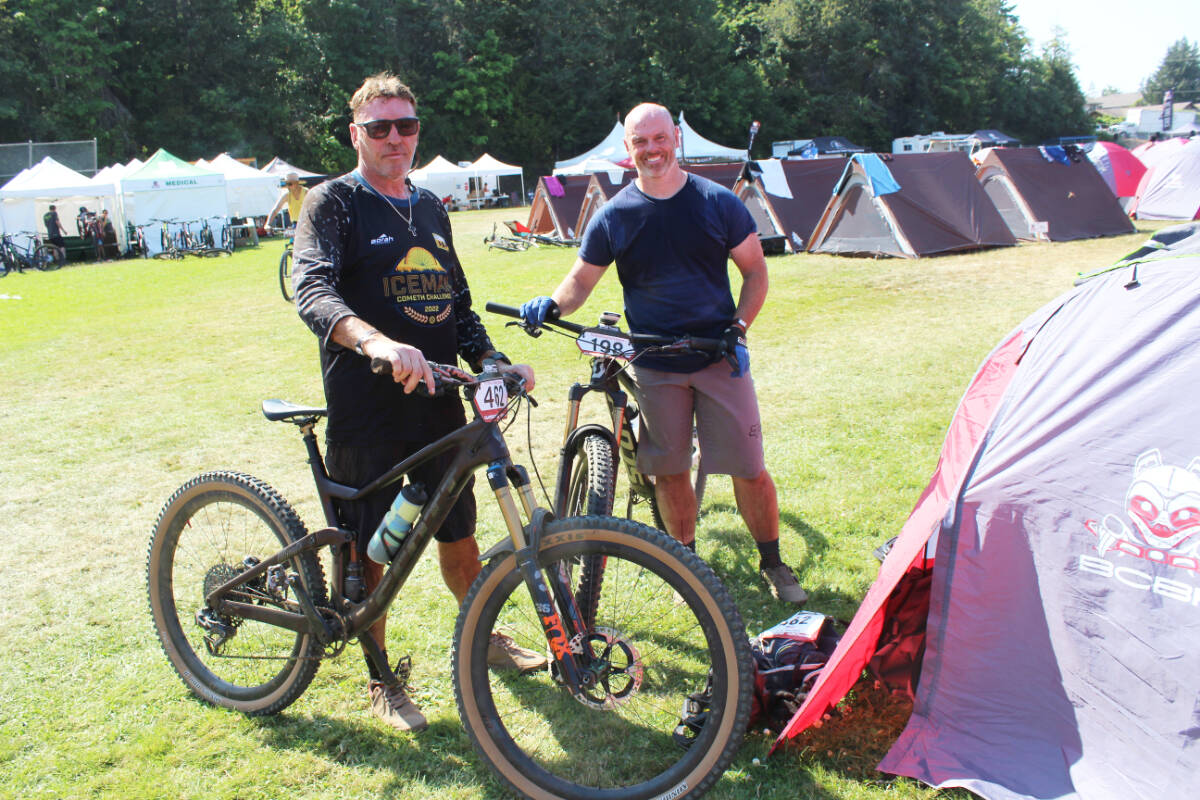 Cris Horton of Black Canyon City, Arizona – north of Phoenix – was above both those standards, but kept pushing through the extreme heat. Horton, 65, and his son Jason Horton, 46, of Muskegon, Michigan, were on the course for six hours and 12 minutes Wednesday.
"We were just out there too long," Cris Horton conceded. "It's a tough trail. It beats you up pretty good."
But they both had nothing but good things to say about the experience of riding here.
"It's a great event," said Jason. "Everything's put together well."
Cris said he only started mountain biking eight years ago at age 57 and opportunities such as this were limited due to travel restrictions from COVID the last few years, but "here we are finally getting to do it."
A back injury also only gave him a couple of weeks to train for the BC Bike Race despite waiting so long to do it for the first time.
"We've done other stuff, but not like this," Cris indicated.
"This is pretty intense," added Jason.
Cris' other son, Brandon, 37, of Granite Bay, California was also in the field, giving the three family members scattered around the U.S. a chance to get together.
"That's exactly what this is for," said Jason. "We don't get to do a lot together."
"Everybody's been nice, a lot of good people here," concluded Cris.
There were countless other stories just like that from within the race, as the ultra competitive mixed with relative newcomers and created a camaraderie that's become the event's trademark.
After two years in the Okanagan before COVID restrictions were eased to open up the entry more readily again, Hestler and co-founder Dean Payne were glad to have the Island showcased for the full seven days this time.
The race differs every year, but Hestler said they would like to incorporate Crofton into the schedule again for the 2024 event that starts two calendar days earlier on July 1 and ends on July 7.
"We love this, look at this venue," he raved.
"It's such a lovely community to land after a stressful travel. You have great mountain biking. If the community will have us and host us, we'll stay for a long time."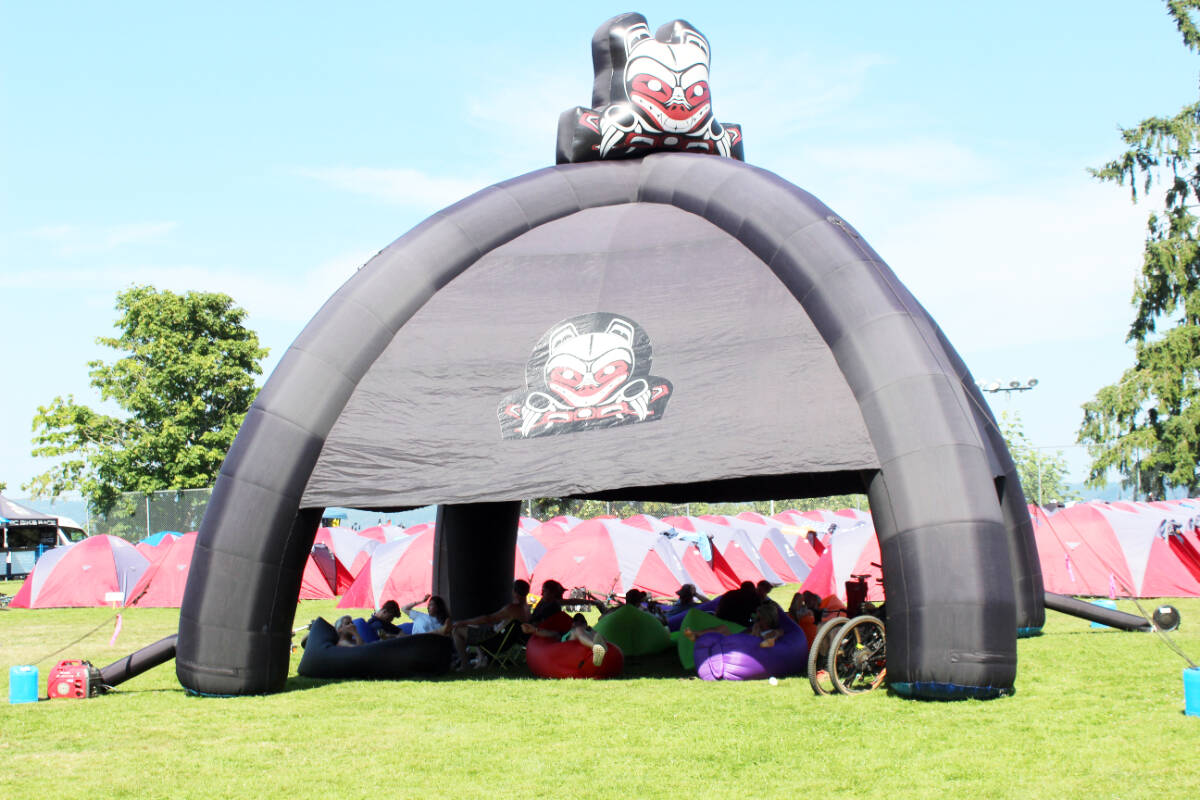 A full economic impact study will be done as a follow-up to the race and delivered to North Cowichan council, Hestler indicated.
He added everything is done in their power, at least, to ensure there's as little disruption to the community as possible with the base camp on the fields. With racers being so tired, "it's dead quiet by nine o'clock," Hestler pointed out.
The BC Bike Race kicked off its 17th year back where it all began on Vancouver Island. Riders had a short dip last Monday into the singletrack on Maple Mountain for the opening prologue that may have looked short on paper with 7.8 kilometres on the clock and a total of 13.4 km, but that distance isn't the same as time on the trail.
Quinton Disera and returning BCBR champ Katerina Nash from Truckee, California finessed the technical aspects better than the rest to earn the early lead in this year's racing.
The scene shifted to Mount Tzouhalem Tuesday for a full 39.9 km of racing (32.6 km on the clock).
Nash had to work hard for her victory, but successfully shook off Evelyn Dong and Alberta's Eva Poidevin.
On the men's side, Disera and New Zealand's Craig Oliver were separated by only three seconds in the prologue and more time on the clock only made the racing closer. The two World Cup racers traded leads all day and Oliver ended up taking the stage win by a razor-thin 0.02-second margin but Disera retained the yellow leader's jersey.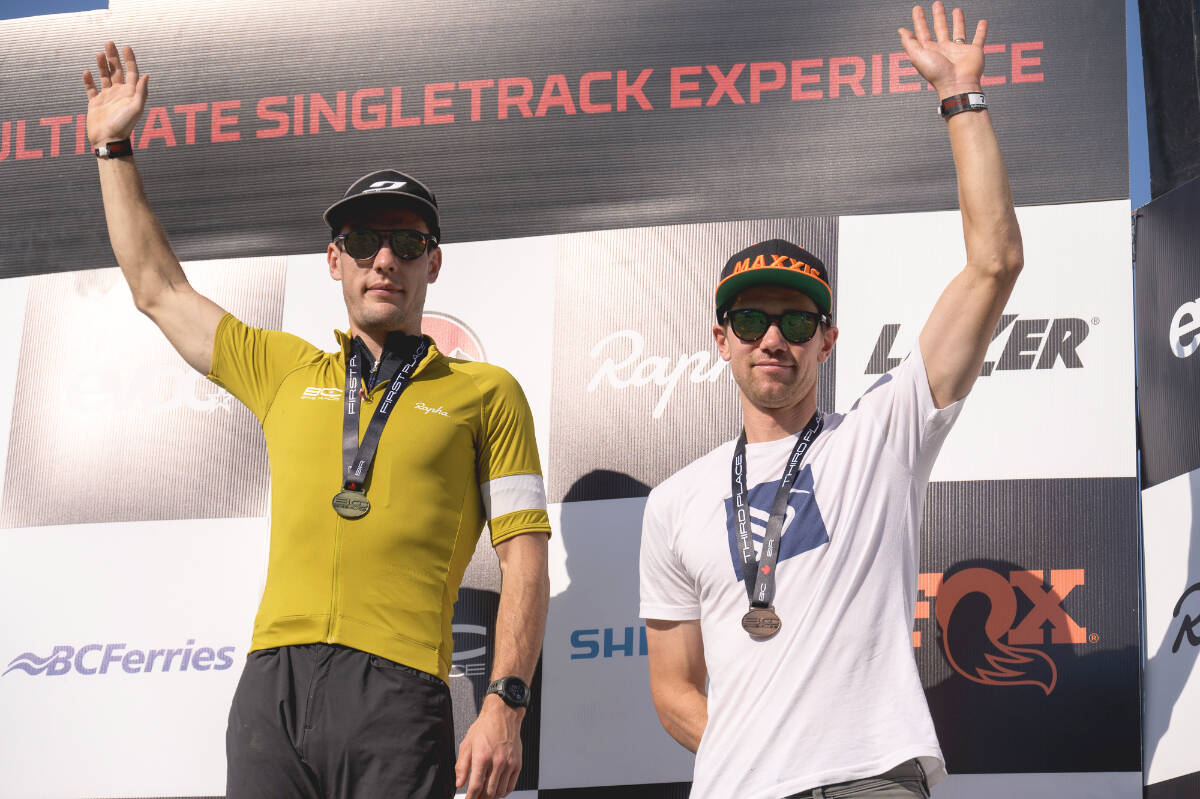 On Day Three back at Maple Mountain, Oliver took over the lead in the open men's event with four seconds of separation on Peter Disera, Quinton's brother.
Nash remained the women's open leader with a 47-second lead over Dong of Park City, Utah.
Final results and complete information on the race can be found .
---
@chemainusnews
don.bodger@chemainusvalleycourier.ca
Like us on Facebook and follow us on Twitter.