*Driveway Canada is a four-page weekly insert published in all of Black Press's 70-plus newspapers across British Columbia. New content is published to DrivewayCanada.ca starting every Thursday morning.
**********
This week, Driveway editor Keith Morgan shows off his photos from a behind-the-scenes tour of Infiniti-Red Bull's factory in Milton-Keynes, England – "the security here seemingly rivals that of the most top-secret government institutions," he writes of the 007-worthy compound.
Keith also got to hang with four-time F1 champion Sebastian Vettel and his team at the 2014 Belgian Grand Prix in Spa.
*See the complete PHOTO GALLERY on DrivewayCanada.ca
Daniel Ricciardo takes the Ice Bucket Challenge at the 2014 Belgian Grand Prix in Spa, Belgium.
F1 Grand Prix of Belgium
F1 Grand Prix of Belgium
Pit Crew at the Spanish F1 Grand Prix
The Red Bull F1 Racing Factory
**********
Car Review: The Fiat 500C
In her weekly car review column, Alexandra Straub takes a ride in the topless Fiat 500C, which she says has its flaws… but they're charming flaws, for sure.
"While its imperfections should cause me to think about ever wanting to drive or own one, I still can't seem to stop loving this little car. I like its quirkiness and the fact that it's not perfect.
"I love the exterior colour: Espresso. It sparkles in the sun and has a warm richness to it."
…
"I feel like I'm back in grade school, sitting on the grass field at lunch, plucking the petals of a dandelion, one by one, saying, "I love it, I don't love it, I love it, I don't love… I LOVE IT!"
**********
Top 4: Great Classic Cars under $25,000
Rob Sass takes a look at the best classic cars you can get for less than 25-Grand, including a hot Ford Mustand, a Thunderbird, a manly Cadillac, and a really classic classic – a 1927 Ford Model A.
"The Model A was The Godfather II to the Model T's The Godfather," he writes. "If you look at American period photos from the 1930s-40s, it sometimes seems like there was nothing else on the road."
Ford Model A: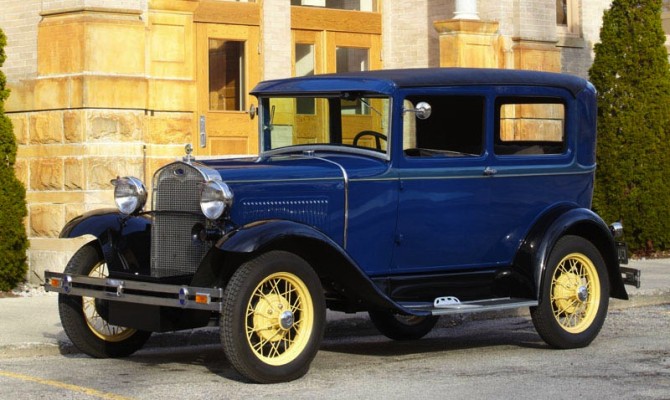 Ford Mustang: